Clients       

          TriLink  Biotechnologies manufactures modified nucleic acid products including custom oligonucleotides, modified nucleoside triphosphates, CleanAmp™ PCR products, phosphoramidites and other small molecules.

          iDiverse develops high-performance cell lines used in the bioproduction of fuel ethanol, industrial enzymes, and pharmaceutical products; and for creating transgenic plants that are resistant to a broad spectrum of diseases and environmental stresses.

          Micro USA, Inc.  designs and manufactures scientific arial platforms imaging systems for detecting and tracking objects of interest as well as Form-Fit-Function replacements of electro-mechanical/imbedded modules in support of Legacy Systems.

          Genesis Illumination, Inc.  develops innovative light based technologies with unparalleled visual and covert surveillance performance for the Defense, Homeland Security and First Responder communities.

          LifeSafer Inc.  provides safe and effective rapid response, multi-use, water and ice rescue tools for the water safety industry.

          Euphlotea Inc.'s mission is to research the development and civilization of the ocean and to educate the public in this area.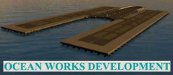 Ocean Works Development's mission is to develop ocean-based infrastructure assets that utilize clean renewable energy, generate fresh water, support mariculture research and other environmentally sustainable activities.